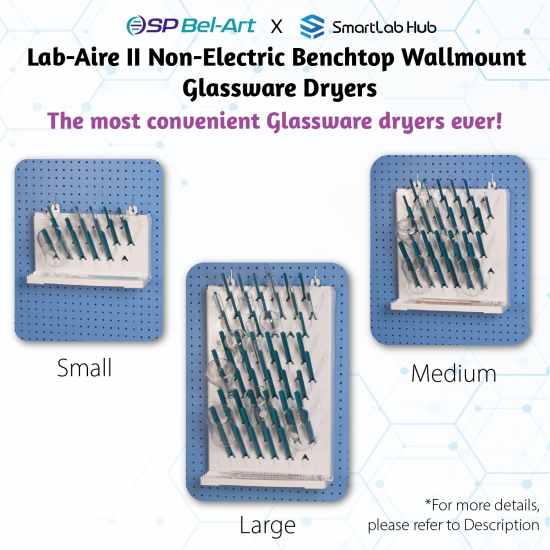 Bel-Art Lab-Aire® II Single-Sided Non-Electric Benchtop or Wallmount Glassware Dryer
Lab-Aire® II Single-Sided Non-Electric Benchtop or Wallmount Glassware Dryer
Laboratory space is always in high demand making the small footprint of the Scienceware® Lab-Aire® II Drying Racks a practical solution for drying and storing fragile, frequently used labware. Lab-Aire II Non-Electric Benchtop Dryers lets you place your dryer wherever it will be most convenient. A sturdy base provides excellent balance and support.
Rugged ABS plastic will never corrode and easily wipes clean
Drip/storage trays have scalloped wells to hold long thin labware
Small (3"), medium (4") and large (5") pegs can be moved and repositioned to hold a variety of labware including beakers, flasks, bottles, test tubes and cylinders
Choose a single sided model to fit nicely against a wall for economy of space.
Double your capacity with a minimal increase in footprint with a double-sided model
Extra accessories and a variety of different sizes/configurations let you create a drying system that works for you.
| Catalog No.: | Description | Wall Space W X H | Depth | Pegs | Quantity / Pack |
| --- | --- | --- | --- | --- | --- |
| F18933-0011 | Single-sided, 1 tier, benchtop or wallmount | 14.75" x 9.4" | 5" | 19 | 1 |
| F18933-0013 | Single-sided, 3 tier | 14.75" x 23.4" | 5" | 57 | 1 |
| F18933-0014 | Single-sided, 2 tier | 14.75" x 16.4" | 5" | 38 | 1 |
Stock:

On Request

Model:

GlasswareDryer_Wallmount_Non-Electric

Bel-Art