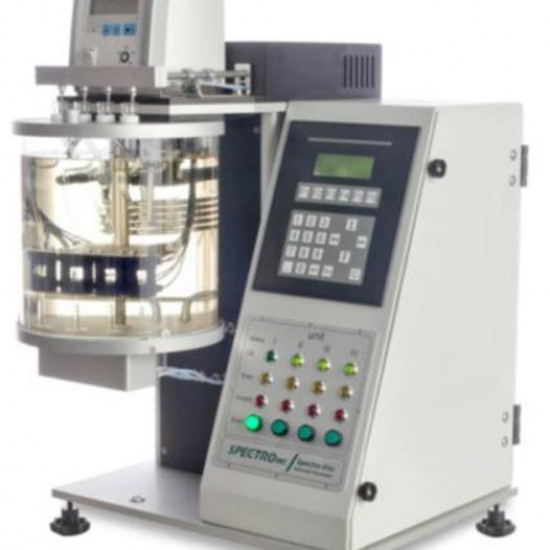 Sales
Spectro Visc Single Bath single Measurement 230V
The SpectroVisc 300 is a bench-top semi-automatic kinematic temperature bath viscometer optimized for the analysis of used and new lubricants. It conforms to the requirements in ASTM D445, D446, D7279, IP 71 and ISO 3104. It is also the ideal system for used oil analysis laboratories that need to test a wide range of lubricant viscosities.

Features:
• ASTM D7279 – "Standard Test Method for Kinematic Viscosity of Transparent and Opaque Liquids by Automated Houillon Viscometer"
• Viscosity analysis of used oil provides an early warning of lubricant degradation and contamination
• High throughput – up to 60 samples per hour to ASTM precision.
• Small sample volume – 0.3 to 0.6 ml.
• Low solvent consumption – 2.5 ml per sample.
• Extremely easy to use.
• Automatic flow time measurement.
• Fully automatic cleaning and drying.
• Fast, easy tube replacement, no need to drain bath.
• Single or dual solvent injection system.
• No PC required for system to operate.
Specification
External Requirements
Compressed Air: 5-6 Bar
Measuring Range
0.6 - 3,000 mm2/s (cSt)
Spectral range
ASTM D445, D446, D7279, IP 71, ISO 3104
Magnetic Dimension
20 - 110 oC
Stock:

In Stock

Reward Points:

6000

Model:

BD_SVS1000

SKU:

SpectroVisc_300

Spectro_Special Deal
HK$120,000.0
HK$250,000.0
Ex Tax: HK$120,000.0